Recently an associate recounted for us a family experience that we would like to share.
My Dad was born in 1929, so he was too young to be drafted for World War II. His Uncle Ray, a farm boy, did serve. Ray was posted to Europe, but I don't know how much fighting he did. He was a skilled carpenter, so his two Army jobs were barbering and building portable latrines. Ray liked to tell the story of the day when he dropped his shovel to stand and salute a passing colonel. The colonel said, "Don't bother to salute me, soldier, your work is too important to be interrupted."
Ray survived the war, led a modest but successful life as a carpenter and handyman, married late in life. Perhaps because Ray was childless when he died in 1994, Dad was the executor for his estate. Some years later, on a business trip to Washington, DC, I was able to look up Ray's service records in the Registry at the World War II Monument. I shared the screen shots with Dad.
When my folks moved to retirement housing, Dad needed to clear out some stuff. He gave me a small metal box that held the last of Uncle Ray's belongs. Inside were family photos, correspondence concerning the funeral and estate settlement, and the few items that Ray kept all his life.
Including his dog tags, and a good conduct service medal.
The dog tags including the name and address of Ray's mother (my great grandmother). Also included was the inscription "In case of need, contact the Lutheran chaplain."
But what really startled me was the War Ration Wallet from war years. Inside are ration stamps for sugar, coffee, flour, and gasoline. There was also a coupon for the purchase of distilled spirits or wine (but not both). Inside the back cover of the Wallet was the exhortation to "Save your WASTE FATS to make explosives." The instructions called for saving every kind of cooking fat and delivering it to a meat dealer for reuse in making ammunition.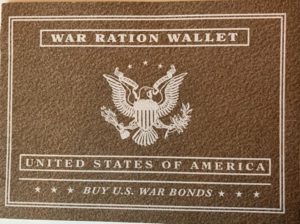 I must admit, I got pretty emotional looking at these things. I've been peeved about inflation, high gas prices, toilet paper shortages during the pandemic, whether the economy isgoing into a recession. These family relics of World War II put all that into a new perspective. My troubles are really nothing compared to what Uncle Ray experienced.
Of the 16 million Americans who served in World War II, the Veteran's Administration reports that 167,284 are still alive in 2022. You can search the registry online now, or add to the records, at https://wwiimemorial.com/Registry/Default.aspx.
At Garden State Trust Company, we wish you a blessed day of remembrance for Veterans Day.
© 2022 M.A. Co. All rights reserved.